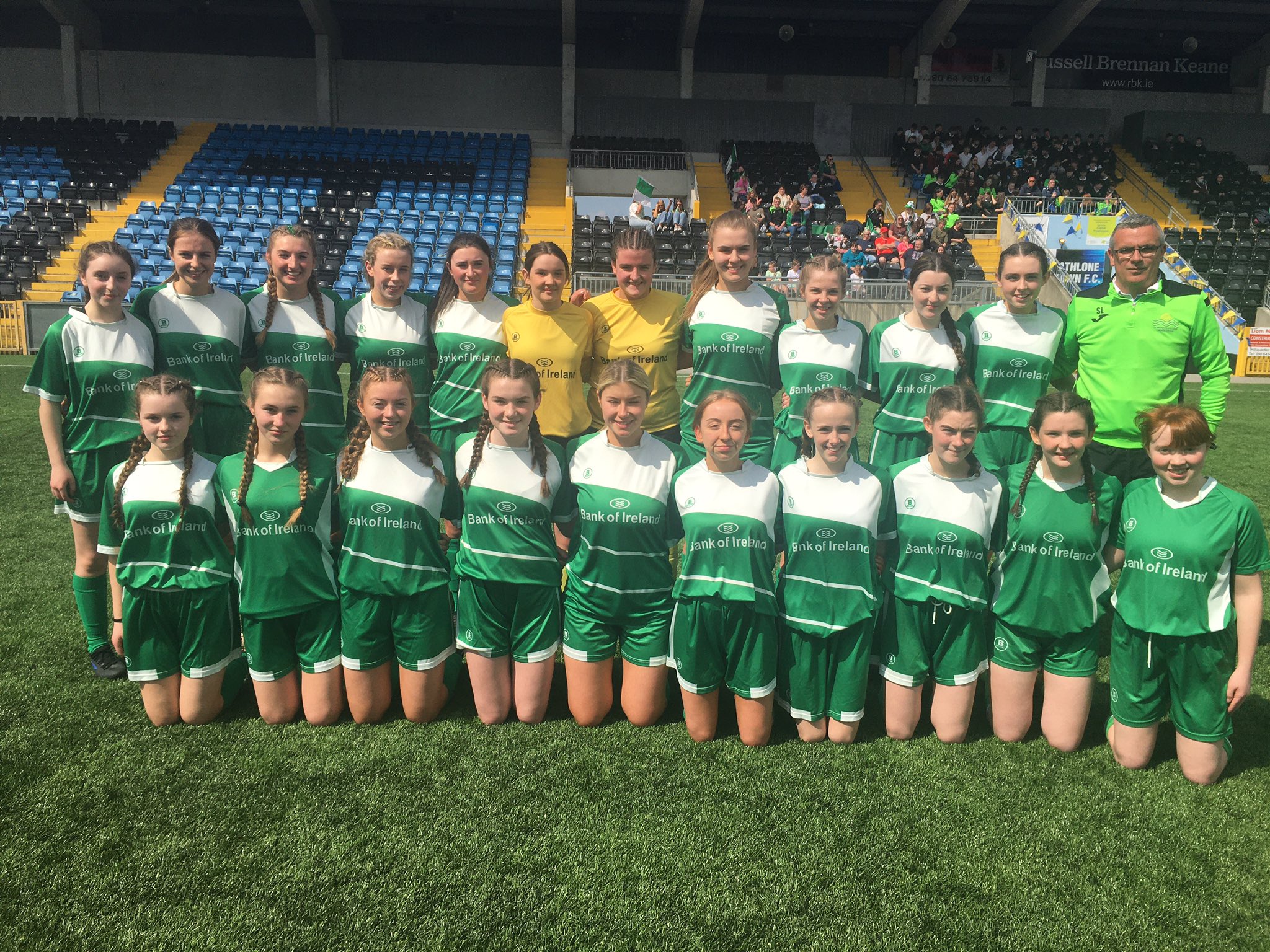 Our magnificent U 19 girls captured another All -Ireland crown yesterday at Athlone Town FC.  Playing against a determined Middleton College from Cork, the girls produced a composed and polished performance to take the cup back home.
Led by captain Sarah Costello, the back four dealt with early pressure from the Cork girls and this provided a springboard for the threat of Deirbhle Mc Hale and Alison Langdon Long up front. A clever pass from Mc Hale set hat trick hero Alison for the first goal and the girls were on their way.
Captain, Sarah added a second from a long range free kick and the Lacken Cross girls with strong passing and tackling from Keeva McDonnell, Aoibhin Bilbow and Ciara Adams held out to withstand the pressure from Middleton to lead by two goals at the break.
The second half continued in the same vein – Middleton attacks were snuffed out by the experienced Laura Bilbow and Karen Higgins while younger players such as Kacie Bilbow, keeper Aine Gough and Anna Mc Donnell also produced strong performances. Alison Langdon Long continued to torment the Cork backline and added two more goals to win the F.A.I. M.V.P. award.
A huge thanks to Mr Lacken for all of his hard work with the girls throughout the season and a big thank you to our travelling supporters who made the who event so entertaining. Commiserations to a valiant Middleton team who fought till the end.
A special word to our four Leaving Cert girls  – Sarah Costello, Laura Bilbow, Ciara Adams and Karen Higgins who have been fantastic ambassadors for the school over the past six years. Best of luck to you all in your upcoming exams.